When it comes to coffee, we might not have cafes on every corner – but if you think Belleville lacks taste, you'd be very wrong. In the last 5 years, Belleville has welcomed a montage of big city folk tired of the hustle and bustle – as well as born and raised entrepreneurs who want to make a space to celebrate connection and community 
But wherever we're from, like all coffee connoisseurs we can't pass up on a good latte. What's resulted, is a supply that meets the demand – or in other words, damn good coffee in town.
The Best Coffee in Belleville starts with Tropical Blend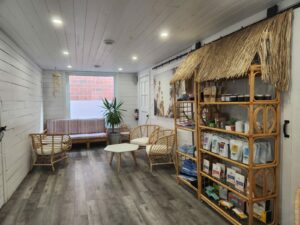 Owners Emily & Charles grew up in Madoc and opened Tropical Blend earlier this year. Inspired by their vacations to Hawaii, they decided to open their shop in downtown Belleville to create a bright space for locals and visitors to the area. Their drinks (and meals) are designed to be healthy and 
fun in a fast-paced world full of processed and convenience-focused foods.
"We love Belleville," Emily says, " because of the beautiful waterfront trails and people in our community. It's a smaller city, so it doesn't take long to navigate, but it still offers everything you need."
Their most ordered coffees are the maple latte (made with local maple syrup from O'Hara Sugar Bush) and their aloha latte, a Hawaiian-style macadamia nut latte. 
The Brake Room isn't Just a Coffee Shop
Owners Adam and Laura are from Stirling and Wooler, and together they've lived in Belleville for over 10 years. They opened The Brake Room in May 2016, so they will be celebrating their 7 year anniversary next spring. Their coffee is delicious, but they aren't just any ordinary coffee shop. 
The Brake Room is a popular stop for bikers from the Bay of Quinte and beyond. "We know firsthand that cafes are gathering places: for friends, for neighbours, and for communities of all types," they say. "We've met our lifelong friends and even our future partners in cafes. This intersection of people is important to us: you don't have to be a cyclist, a local, or even a coffee drinker to feel welcome here."
Their coffee starts with direct-trade coffee beans, expertly roasted – and ends in your favourite frothy delicious caffeinated beverage. Which, according to their "most ordered" list… is the flat white. But at Davies & Co, if it came to a vote — the oat milk latte would be the winner. 
For more community content, visit our blog here!