Airbnb Rates in Belleville, Quinte, Prince Edward County and all surrounding areas aren't going down any time soon. Like many people during the pandemic, dramatic changes across the world pushed homeowners to find additional sources of income. Airbnb's revenue from listings almost doubled globally from $3.88 billion in 2020 to 6.85 billion in 2021 – and homeowners in Belleville and its surrounding suburbs took their place among them.
What is the average Airbnb Rate?
When our clients are looking to move into the area (or looking to sell their home as a potential income property) – one of the questions they commonly ask is "how much do Airbnb's cost in the area?" 
So we did the research. Below you'll find the average nightly rate on Airbnb based on a 3-month average from August 1 to November 1, 2022.
| | |
| --- | --- |
| Location | Average Nightly Rate |
| Picton, Ontario | $396 |
| Wellington, Ontario | $407  |
| Quinte West, Ontario | $311 |
| Belleville, Ontario | $220 |
| Carrying Place, Ontario | $407 |
| Brighton, Ontario | $333 |
| Trenton, Ontario | $283 |
| Deseronto, Ontario | $283 |
| Bay of Quinte, Ontario | $304 |
Airbnb Rates in Wellington, Ontario
*per night prices shown in the images are subject to change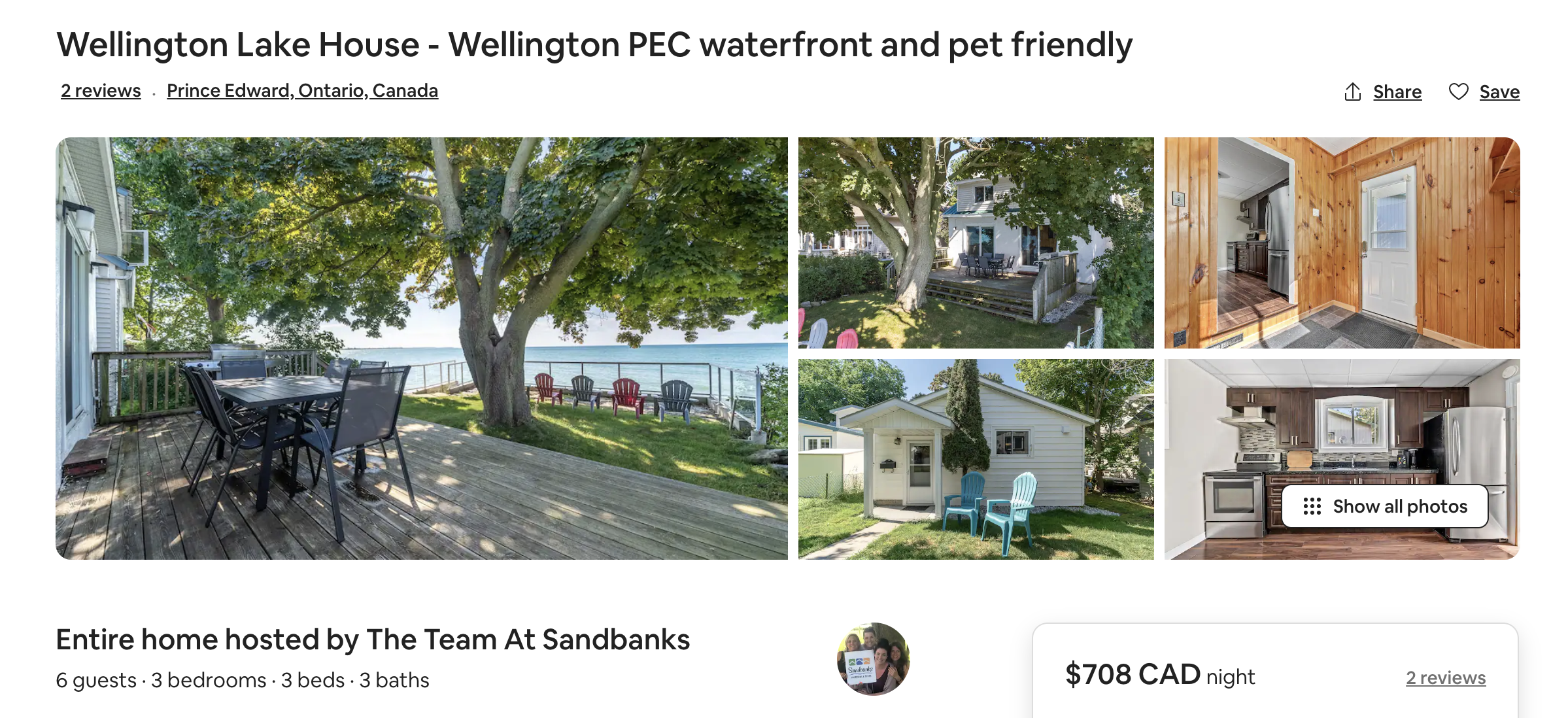 In the heart of the County, you'll find the Wellington Lake House: a stunning,3 bedroom, 3 bath waterfront home is steps from the Drake Devonshire in the village of Wellington.  On a clear evening, you can even see the lights 70km across the lake in Rochester, NY. Book it here.
Airbnb Rates in Picton, Ontario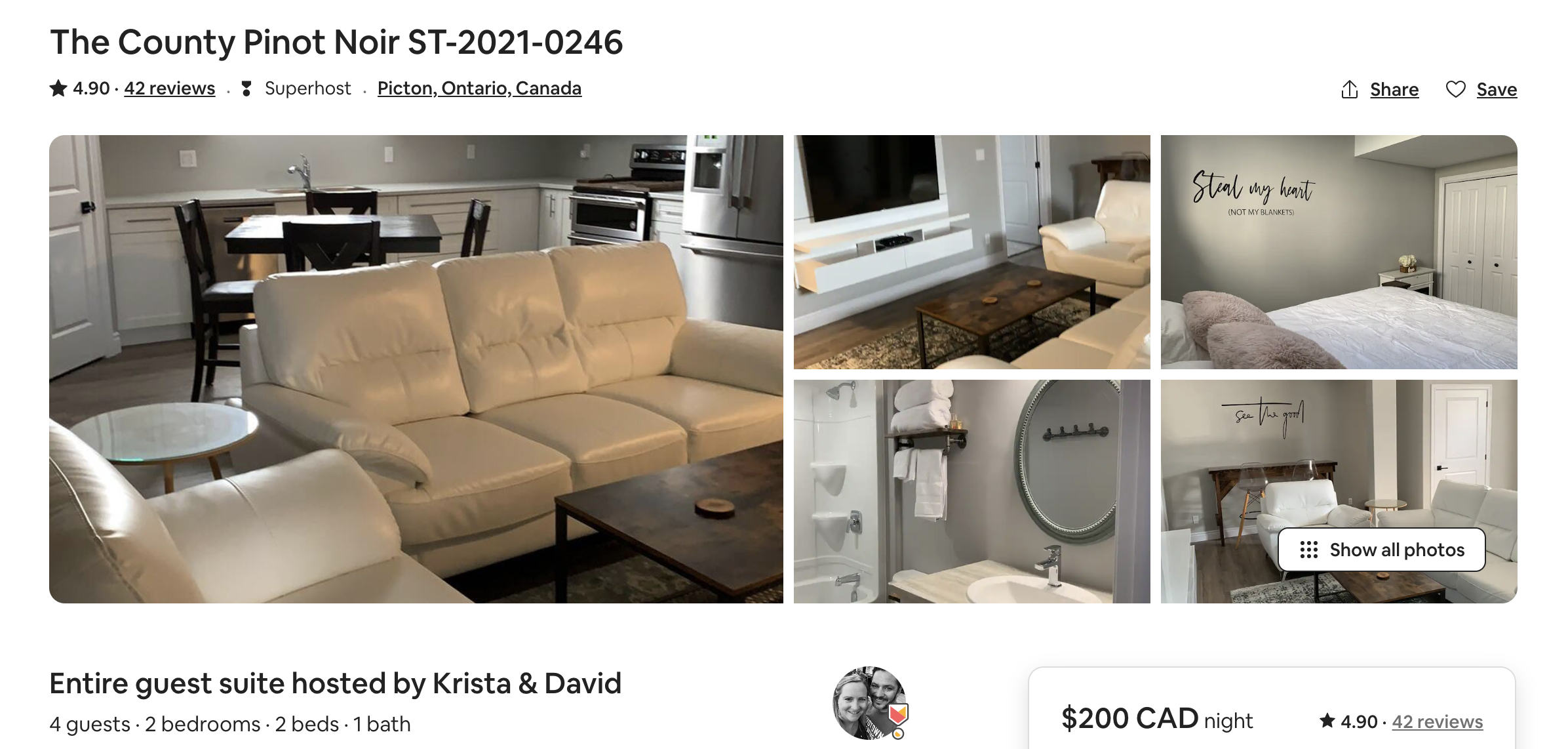 While the average nightly rate in the County comes in at a steep $396, that doesn't mean you can't stay in picturesque Picton on a tighter budget. Pinot Noir, hosted by Krista and David is a cozy 2-bedroom apartment with 9-foot ceilings just outside of the downtown district but close enough to walk. Plus it comes with parking, which is a huge bonus during high season. Check it out here.
Airbnb Rates in Bay of Quinte, Ontario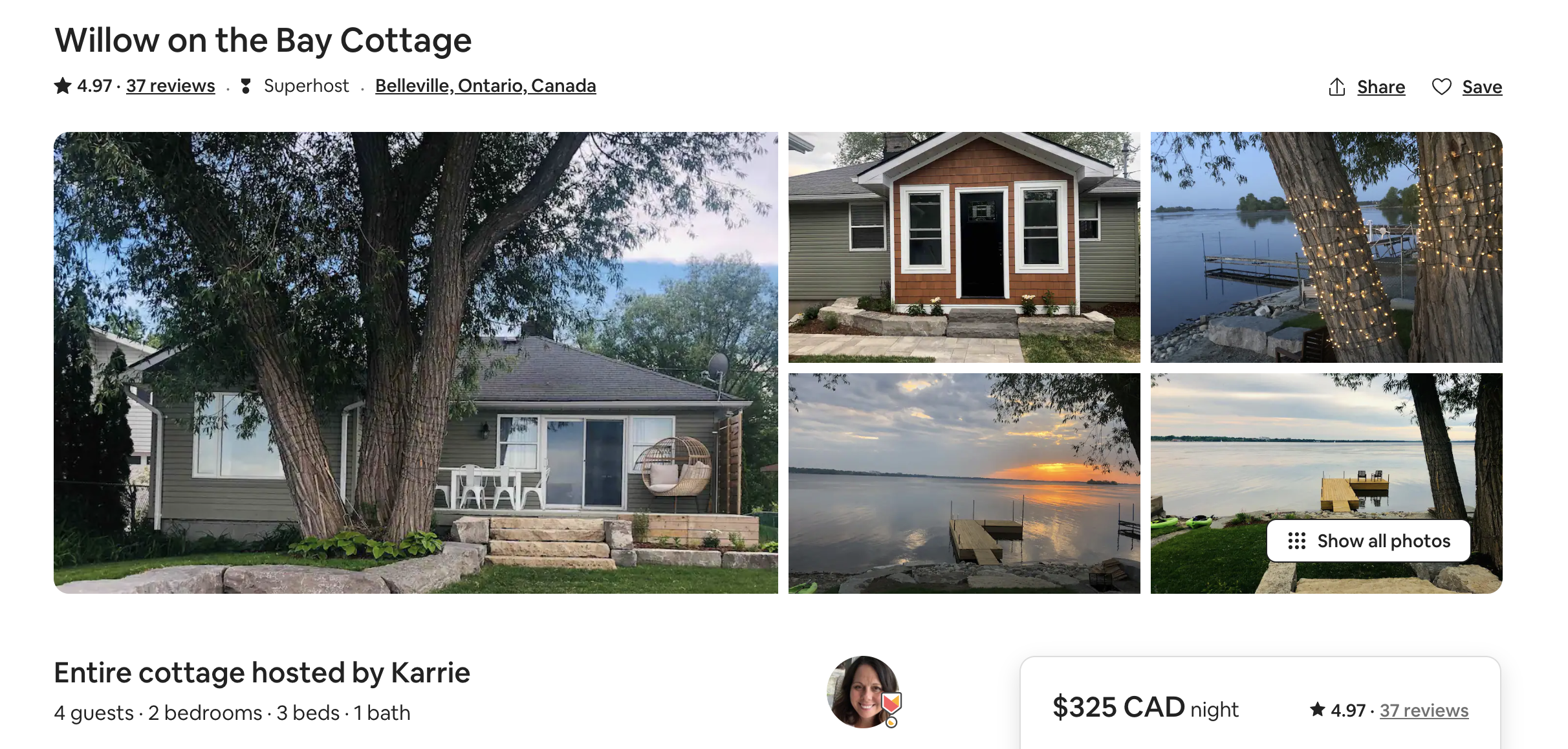 Willow on the Bay is a beautiful 2 bedroom waterfront cottage tucked away on the County side of Belleville, yet close enough to get downtown in less than 10 minutes. This unique location lets you get the best of both worlds – you can spend the day visiting wineries, breweries and beaches – or cross over the bridge to enjoy Belleville's downtown. Book it here. 
Airbnb Rates in Quinte West, Ontario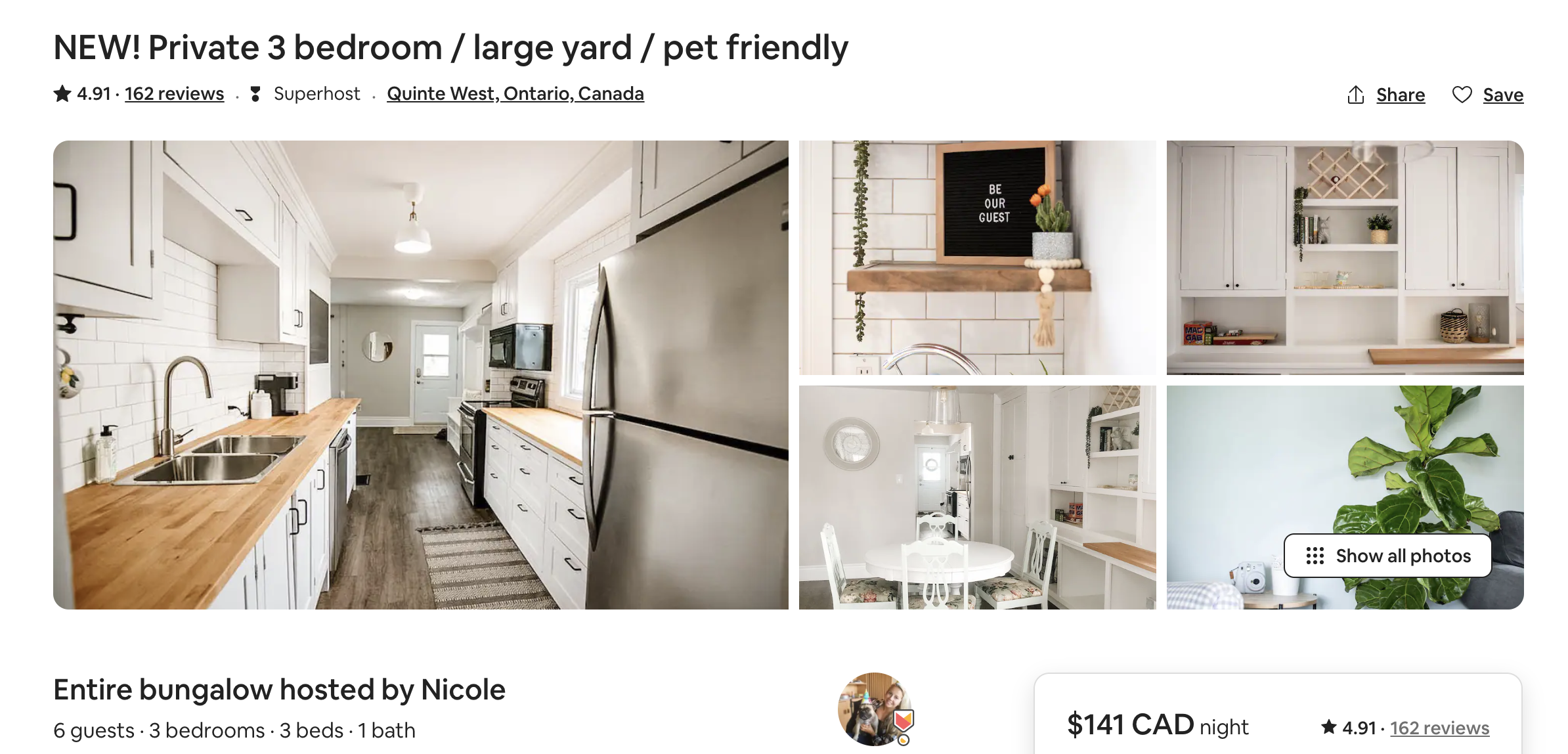 New on Airbnb, Strawberry Hallow hosted by Nicole is a modern  3 bedroom +1 bath bungalow with a chic County feel. It's also 5 minutes from the base in Trenton, so it doubles as an out-of-town but in-town getaway for people needing a little country privacy. The backyard is fully fenced so it's a great place for those with furry friends. Check it out here.